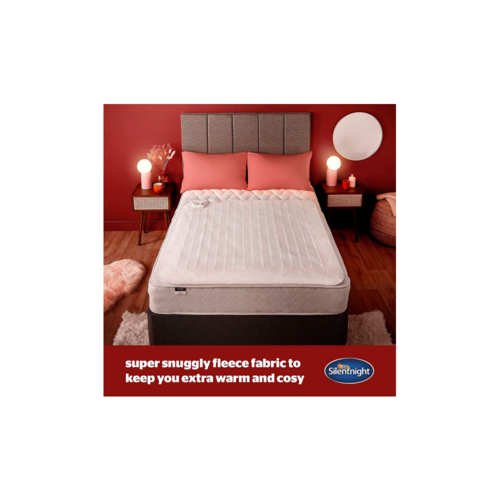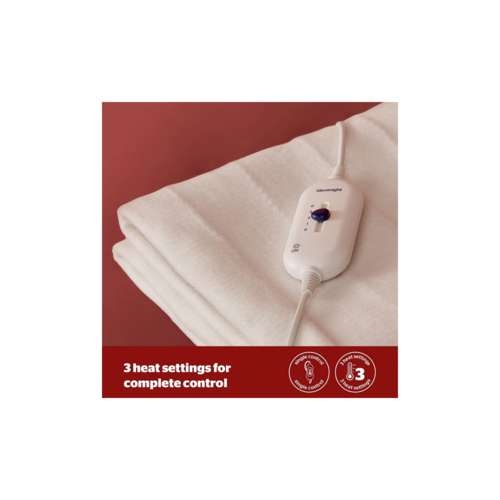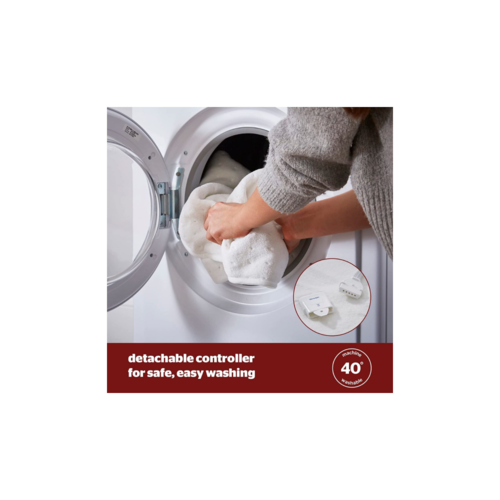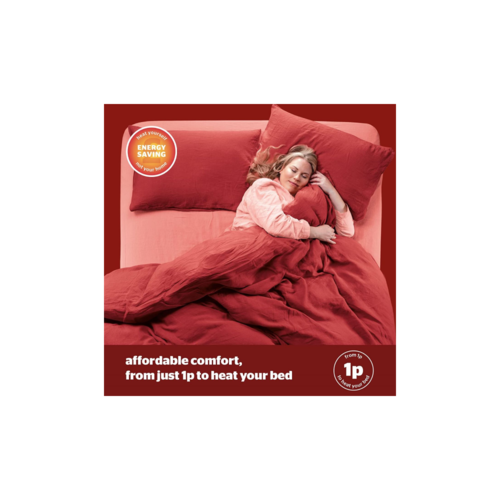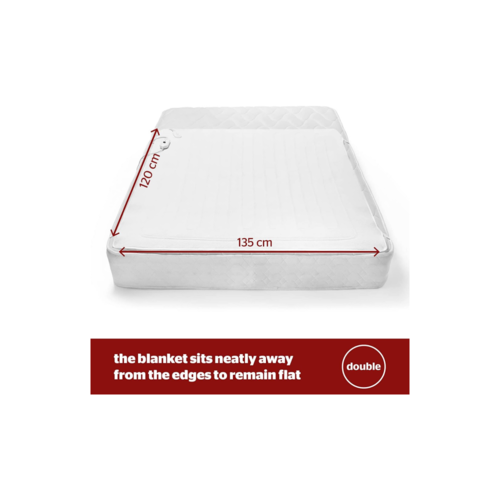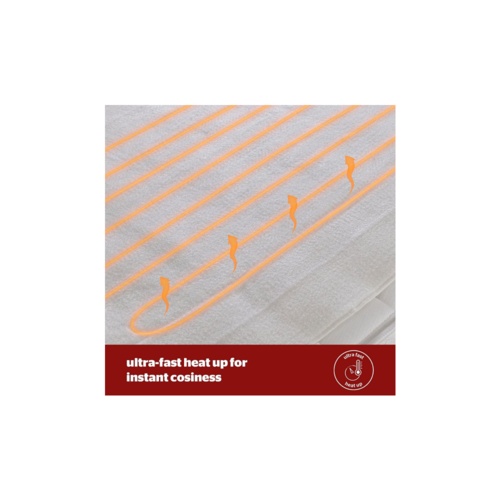 Silentnight Comfort Cool Electric Blanket | Double, White
Brand:   Silentnight
Material:    100% Polyester
Size:    Double Size (120 x 130 cm)
Style:    Comfort Control Electric Blanket
Color:    White
Heating Control:    3 Heat Settings
Safety Features:    Overheat Protection & Auto Shut-off Features
Power:    70W
BEAB Approved:   Safety Verified by an Independent 3rd Party
Warranty:    3 Years
23
people are viewing this right now
Out of stock

Guaranteed safe & secure checkout
Description
The Silentnight Comfort Control Electric Blanket is an exceptional bedding accessory that can help you stay warm and comfortable throughout the night. With its advanced features and high-quality materials, this blanket is designed to offer you an unparalleled sleeping experience. Below is a detailed product description of the Silentnight Electric Blanket, including its features, benefits, and key specifications.
Features of Silentnight Electric Blanket Double:
It comes in various features. Here some major features are:
Three Heat Settings: This blanket has three different heat settings to adjust the warmth to your liking. Whether you want to be warm and snug on a chilly night or need extra warmth, this blanket has you covered.
Machine Washable: Cleaning it can be a hassle, but not with the Silentnight Electric Blanket. This blanket is machine washable, making it easy to clean and maintain.
Soft &Comfortable: Made with soft, high-quality materials, it is incredibly comfortable. It features a soft, quilted finish that provides an extra layer of warmth and comfort.
Dual Control: It is available in single and double sizes, and both sizes come with dual control. This means that each side of the blanket can be controlled separately, allowing you and your partner to adjust the temperature to your individual preferences.
Easy to Use: Using this blanket is simple. It has an easy-to-use control panel that allows you to adjust the heat settings and turn the blanket on and off.
Benefits of Silentnight Electric Blanket Double:
Here are various important benefits of these blankets below:
Stay warm & Comfortable: With the Silentnight Electric Blanket, you can stay warm and comfortable throughout the night. It provides an extra layer of warmth that can help you fall asleep faster and stay asleep longer.
Easy to Clean & Maintain: One of the major benefits of this blanket's cleaning and maintenance process is very easy. You can plug it out, wash it in the machine, and dry it.
Advanced Safety Features: Safety is a top priority for blankets. This blanket features advanced safety features like overheat protection and an auto-shutoff timer, automatically turning off the blanket after a certain time.
Energy-efficient: This blanket is an energy-efficient way to stay warm at night. It uses less energy than heating an entire room so you can save money on your energy bills.
Suitable for All Seasons: Whether it's a cold winter night or a cool summer evening, this blanket can be adjusted to the perfect temperature for any season.
Buy Silentnight Electric Blanket – Double at Cheemz UK
Are you tired of cold and uncomfortable nights? Look no further than the Electric Blanket Double, available now at Cheemz!
This premium blanket is designed to provide you with the ultimate comfort and warmth, ensuring a restful night's sleep no matter the weather outside. With its easy-to-use controller, you can adjust the temperature to your liking, ensuring that you stay cozy and warm throughout the night.
The double-sized blanket is made from high-quality materials, ensuring both durability and comfort. The ultra-soft fabric feels luxurious against your skin, while the overheat protection system ensures your safety while you sleep.
If you're concerned about the environment, you'll be pleased to know that this electric blanket is energy efficient, meaning that you can enjoy a warm and comfortable night's sleep without worrying about your impact on the planet. And with its easy-to-clean design, this blanket is both practical and convenient.
So why wait? Say goodbye to cold and uncomfortable nights and invest in this blanket today. Not only will it provide you with the ultimate comfort and warmth, but it will also help you to save money on your energy bills in the long run.
At www.Cheemz.co.uk, we pride ourselves on our commitment to providing our customers with high-quality products at affordable prices. We offer a wide range of products to suit all of your needs, from bedding and homeware to kitchen and dining essentials.
Ordering from Cheemz is easy and hassle-free. Simply add the blanket to your basket and proceed to checkout. Our secure payment system ensures that your details are safe and protected, and our fast and reliable delivery service means that you'll receive your new blanket in no time.
But don't just take our word for it – see what our satisfied customers have to say:
"I've been using the Silentnight Electric Blanket Double for a few weeks now and I couldn't be happier with it. It heats up quickly and keeps me warm all night long. Plus, it's super soft and cozy!" – Sarah T.
"I was a bit skeptical about buying an electric blanket at first, but I'm so glad I did. The Silentnight Electric Blanket Double is a game-changer – I've been sleeping better than ever before." – Michael S.
So why not join many satisfied customers who have already discovered the benefits of this blanket? Order yours today and enjoy a warm and comfortable night's sleep every night!
There are no question found.