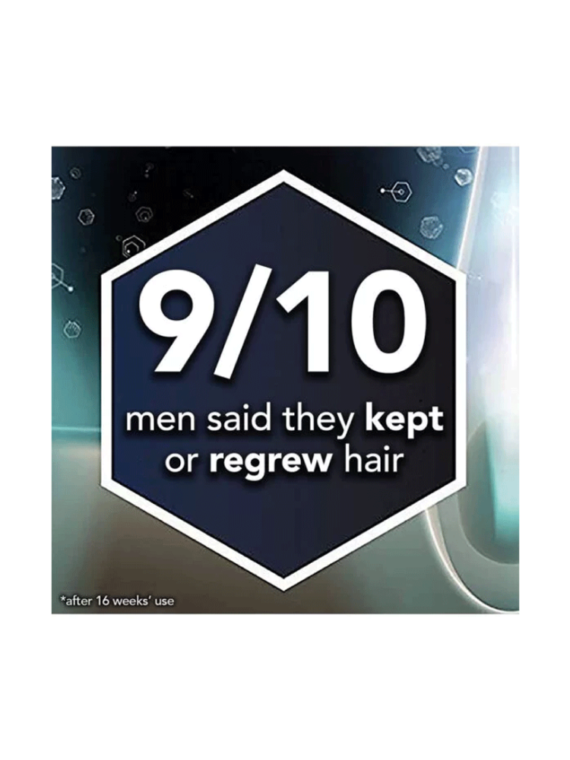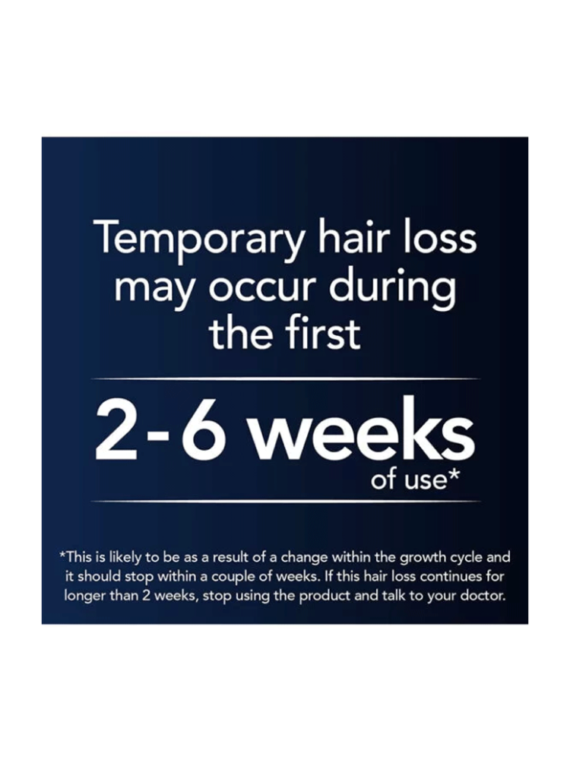 Regaine for Men – Hair Regrowth Scalp Foam | EXTRA STRENGTH, 3 Months Supply
Brand:   REGAINE
Active Ingredient:   Minoxidil 5% w/w
Dosage Form:   Foam
Package Size:    Pack of 3 Cans (3x73ml)
Uses:    Topical Treatment for Pattern Hair Loss in Men
Administration:   Applied to the Scalp Twice Daily
Recommended Duration of Use:    Continuous Use for Optimal Results
Contraindications:   Not for Women or Children
Side Effects:    Common Side Effects May incl. Itching and Redness
26
people are viewing this right now
Out of stock

Guaranteed safe & secure checkout
Description
Main Features of Regaine for Men
Regaine for Men is a popular hair loss treatment that has been specifically designed for men suffering from hereditary hair loss or androgenetic alopecia. It works by targeting the root cause of hair loss and promoting hair regrowth in men. Here are some more features of Regaine foam for men that make it a highly effective hair loss treatment:
Clinically Proven: Regaine foam has been clinically proven to be effective in stopping hair loss and promoting hair regrowth. The active ingredient in Regaine, minoxidil, has been extensively researched and is a well-established treatment for male pattern baldness.
Safe to Use: Regaine is safe to use and does not cause any major side effects. It is a topical treatment that is applied directly to the scalp and is absorbed into the skin without affecting the rest of the body.
Non-invasive: Regaine foam is a non-invasive treatment for hair loss. Unlike other hair loss treatments such as hair transplant surgery or laser therapy, Regaine does not require any surgical intervention.
Suitable for all Hair Types: Regaine foam for men is suitable for all hair types and can be used by men of all ages. Whether you have straight, wavy, or curly hair, Regaine can help you stop hair loss and promote hair regrowth.
Easy to Use: Regaine foam is very easy to use. Simply apply the foam to your scalp twice a day, and massage it into your scalp with your fingers. It is important to ensure that your hair and scalp are completely dry before applying Regaine and to avoid washing your hair for at least four hours after applying the foam.
Quick Results: Regaine for men is known for its fast results. Most men start seeing improvements in their hair growth within eight weeks of using the treatment, although it may take up to four months to see significant results.
Regaine Foam for Men – Hair Loss Treatment
Hair loss in men is a major problem in the UK and around the world. 40% of men show hair loss by the age of 35, and the numbers grow to 65% in the older age group of 60. Regaine foam for men helps treat people who have recently started losing hair and have hair loss problems. It is proven to stop and reverse hair loss for men. Its active ingredient, Minoxidil, is a clinically tested element that stops hair loss by working at the roots of the hair. It increases blood flow and nutrients to the parts of the hair that need it the most. It is proven to stop hair loss in 3 out of 5 men, and it even has shown regrowth of already lost hair. Its use of 48 weeks can show exceptional results in men. This product is designed for men only and should be used if the person has any sort of problems with blood pressure and if the person has patchy or sudden hair loss. It should be clear that it is for men only, and women should not use this product for hair loss treatment.
Buy Regaine for Men at Cheemz Online Store
If you're looking to address hair loss or thinning, Regaine foam for men can help. Cheemz offers a convenient and affordable way to purchase a three-month supply of this clinically proven treatment.
Regaine contains minoxidil, which has been shown to help regrow hair in men with hereditary hair loss. It works by increasing blood flow to the hair follicles and stimulating them to grow new hair. This foam formula is easy to apply and dries quickly, so it won't interfere with your daily routine.
When you purchase a three-month supply of Regaine for men at www.Cheemz.co.uk, you can rest assured that you're getting great value. Our prices are competitive, and we offer free shipping on all orders. Plus, we make it easy to reorder when you need to – simply log in to your account and place your order.
Here are some additional benefits of shopping for Regaine Foam for Men at Cheemz:
Convenient shopping experience: Our website is easy to navigate, and we offer a variety of payment options, including credit cards, PayPal, and Apple Pay. You can also track your order status online.
Fast Shipping: Cheemz does not compromise on the quality of the products it sells on its platform and is reliable, with products safe delivery within 3 to 4 days.
Trusted source: Cheemz is a reputable retailer that sells only genuine products. We work directly with manufacturers to ensure that our customers receive high-quality products that are safe and effective.
Customer support: Our customer support team is available to assist you with any questions or concerns you may have. You can reach us by phone, email, or live chat.
If you're ready to take control of your hair loss, Regaine foam for men can help. Don't let thinning hair hold you back – order your three-month supply today and start regrowing your hair with confidence.
There are no question found.