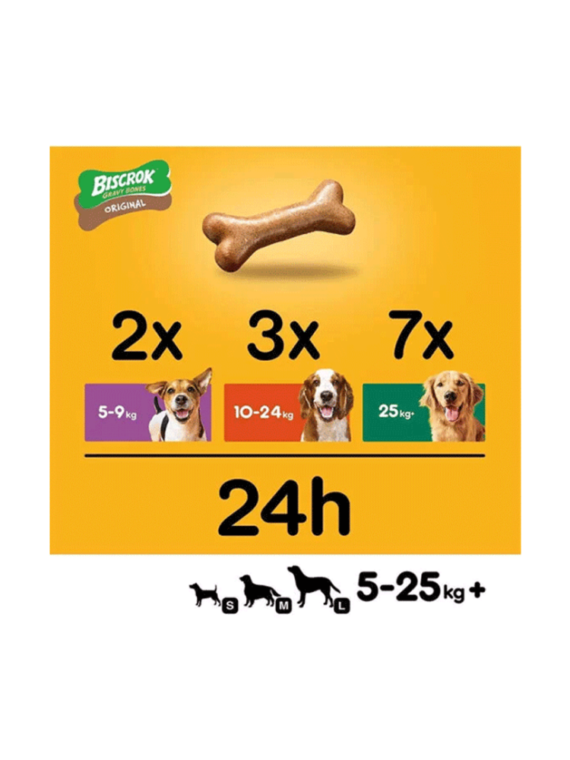 Pedigree Biscrok Gravy Bones – Original Dog Biscuits 10kg
Brand:   

Pedigree

Type:    Dog Treat
Form:    Gravy Bones
Ingredients:    Cereals, Meat, Oils, Vitamins
Flavors:    Original
Species:    Dog
Age:    Adult
Weight:    10kg
20
people are viewing this right now
Out of stock

Guaranteed safe & secure checkout
Description
About the Pedigree Biscrok Gravy Bones Biscuits
The Pedigree Biscrok Gravy Bones – Original Dog Biscuits are delicious and nutritious dog treats. With real meat, these biscuits provide a tasty and satisfying snack that dogs love. The gravy flavor adds extra taste, making them perfect for dogs that love savory treats. These biscuits are also enriched with essential vitamins and minerals to help keep your dog healthy. They are easy to digest and can be used as a reward or a treat for good behavior. Perfect for dogs of all sizes and breeds, Pedigree Biscrok gravy bones biscuits are a great choice for pet owners who want to provide their furry friends with a tasty, enjoyable, and nutritious treat.
Notable Ingredients:
Their original Pedigree Biscrok gravy bones biscuits are made with real meat and a blend of high-quality ingredients.
The main ingredients include:
Meat and animal derivatives (min. 4% beef)
Minerals
Vegetable protein extracts
Gravy (1.5%)
These biscuits are enriched with vitamins and minerals to support your dog's health. They are free from artificial preservatives, colors, and flavors, making them a safe and nutritious treat for your furry friend. Whether used as a reward or a snack, Pedigree Biscrok gravy biscuits are a delicious and healthy treat that dogs will love.
Buy Original Pedigree Biscrok Gravy Bones Biscuits at Cheemz
If you're a dog owner in the UK, you want the best for your furry friend, including quality nutrition. These gravy bones biscuits are popular for pet owners looking for a tasty and nutritious snack for their dogs. Here are some of the reasons why you should consider purchasing Biscrok gravy bones from Cheemz UK:
Quality ingredients:
These gravy bones are made with high-quality ingredients carefully selected to ensure your dog gets the best nutrition possible. The biscuits are made with real meat and vegetables, providing a balanced diet for your furry friend.
Delicious taste:
Dogs love the taste of these gravy-bones biscuits. These biscuits have a delicious gravy flavor that dogs can't resist. They are perfect for a training treat or simply as a special snack for your dog.
Nutritious:
They are designed to be a healthy snack for your dog. They are high in protein, essential for building and maintaining muscle. They also contain important vitamins and minerals for your dog's overall health.
Affordable:
Cheemz UK offers Pedigree Biscrok gravy bones at a competitive price. You can purchase a 10kg pack of these biscuits from our online store, ensuring you have enough to keep your furry friend happy for weeks.
Fast and secure shipping:
You can expect fast and secure shipping when you order Pedigree Biscrok gravy bones from Cheemz UK. We offer 3 to 5-day delivery to ensure your order arrives quickly.
Overall, Pedigree Biscrok gravy bones are a great choice for dog owners looking for a nutritious and tasty snack for their furry friend. Cheemz UK offers these biscuits at an affordable price, with fast and secure shipping to ensure you get your order quickly. So, why not try Pedigree Biscrok gravy bones today and see how much your dog loves them?
Additional Info:
Here is some additional information you may find useful:
Contact us: If you have questions or concerns about Pedigree Biscrok gravy bones, email Cheemz UK or visit our website. Our customer care support team is available 24/7 to assist you with any queries.
Customer reviews: At Cheemz online store, we value our customers' feedback, and we encourage you to check out our customer reviews for Pedigree Biscrok gravy bones biscuits. These reviews can provide you with a better understanding of the product's quality and effectiveness.
Other products: Besides Pedigree Biscrok gravy bones, Cheemz offers various products and pet supplies like frontline for cats and dreamies treats. Also, you can buy our top-rated kitchen and personnel care products, including Brita kettles, electric shavers, tower air fryers, electric blankets, water filter cartridges, and Regaine for men. Be sure to check out our online store for our full selection of products.
Returns and refunds: At Cheemz.co.uk, we stand behind the quality of our products. If, for any reason, you are not satisfied with your purchase of Pedigree Biscrok gravy bones, we offer a hassle-free return and refund policy. Contact our customer care support team for assistance.
We hope this information helps you purchase Pedigree Biscrok gravy bones from Cheemz UK. Our goal is to provide you with the best products and customer service possible, so please do not hesitate to contact us with any questions or concerns.
Additional information
| | |
| --- | --- |
| Weight | 10 kg |
| Dimensions | 3 × 3 × 3 cm |
There are no question found.