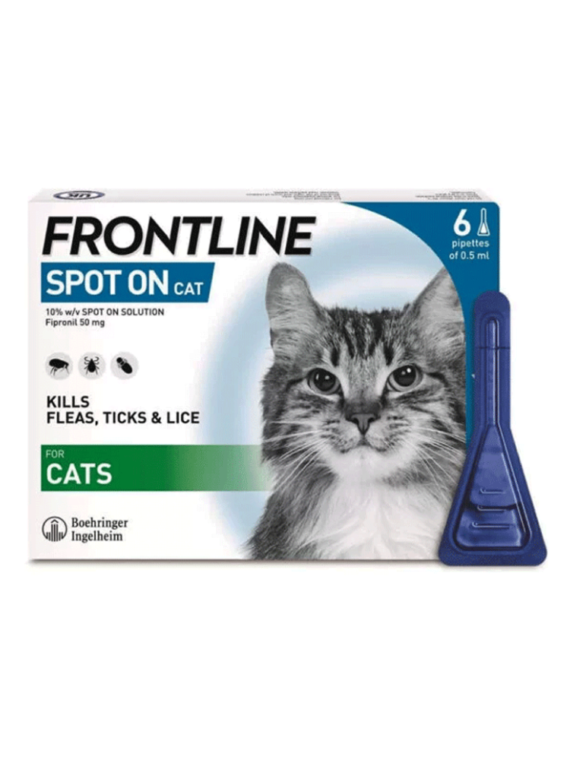 FRONTLINE Spot On | Flea & Tick Treatment For Cats and Ferrets – 6 Pipettes
Brand:   FRONTLINE
Active Ingredient:    Fipronil
Form:    Spot-on Solution
Dosage Form:    Pipettes
Target Species:    Cats and Ferrets
Mode of Action:    Kills Fleas and Ticks
Application Site:    On the Skin Between the Shoulder Blades
Duration of Activity:    Lasts Up to a Month
Packaging Size:    6-Pipettes
28
people are viewing this right now
Out of stock

Guaranteed safe & secure checkout
Description
About Frontline Spot On – Flea and Tick Treatment for Cats & Ferrets
Do you see your pet struggling with ticks and fleas? Fret not, Cheemz has the perfect solution for your itchy pet, i.e. Frontline for cats & ferrets.
Frontline Spot On is an effective flea and ticks' treatment for cats and ferrets. This fast-acting solution is easy to apply and provides long-lasting protection against fleas and ticks. One application lasts up to 30 days and helps to protect against infestations that can cause skin irritation, itching, and disease.
The active ingredient in Frontline Spot On is fipronil, which kills fleas and ticks on contact. The product is waterproof and remains effective even after bathing or swimming. It is also safe for cats and ferrets of all ages and breeds, making it a convenient choice for pet owners.
To use Frontline Spot On, part the hair on your pet's neck and apply the solution directly to their skin. The product spreads through the oils in your pets' skin and takes effect immediately. Applying the solution once a month is important to maintain protection against fleas and ticks.
In addition to being effective, Frontline Spot On is also easy to use. This product comes in a pipette shape. The applicator is designed to be mess-free and ensures accurate application every time. There are no messy powders or sprays, and the solution dries quickly so that you can return to your routine with your pet as soon as possible.
Overall, Frontline Spot On is a convenient and effective solution for controlling fleas and ticks in cats and ferrets. Its fast-acting formula and long-lasting protection make it an excellent choice for pet owners who want to keep their pets healthy and comfortable. With its simple application and convenient applicator, Frontline for cats & ferrets is a smart choice for any pet owner.
Buy Frontline Spot On – Pipettes at Cheemz UK
Are you looking for a reliable and effective flea and tick treatment for your furry friend? Look no further than Frontline for cats! Here are some reasons why you should consider purchasing from Cheemz UK:
Wide range of products: Cheemz UK offers a wide range of pet products to meet your needs. From flea and tick treatments to toys and food, you can find everything you need in one convenient location.
Easy online shopping: Shopping for pet products has never been easier thanks to Cheemz UK's user-friendly website. From the convenience of your own home, you may shop for a wide variety of items.
Fast and secure shipping: Cheemz offers fast and secure shipping, so you can receive your products in just 3 to 5 working days. No need to worry about waiting weeks for your products to arrive.
Competitive prices: We offer competitive prices on all their products, so you can get the products you need at a price you can afford.
Trusted retailer: Cheemz is a trusted retailer of pet products, so you can rest assured that you are getting high-quality products that are safe for your pet.
So why wait? Order your Frontline for cats from Cheemz UK today and give your pet the protection they deserve!
Additional Information:
At Cheemz UK, we value our customers and want to ensure that you have the best shopping experience possible. That's why we offer 24/7 customer service support to assist you with any questions or concerns you may have. Some of the ways in which our support staff may assist you are as follows.
Wide range of products: 

Cheemz online store has it all! From electronics to personnel care, pet supplies to kitchenware, we offer a wide range of high-quality products at affordable prices. Here, you can find our top products, including, Reagine for Men, Brita Cartridges, Tower Air Fryer, Philips Electric Shavers, Dreamies Cat Treats, Brita Kettle, Pedigree Biscrock Gravy Bones, and more. Shop with us for an enjoyable and hassle-free online shopping experience.
Product selection: Our team can help you choose the right product for your pet cat or dog based on their needs and preferences. We can provide you with information about the product's ingredients, usage, and effectiveness.
Complaints: If you have any complaints about our products or services, our customer service team is here to listen and help resolve your issue in a timely manner.
Chat support: You can reach us via our chat support system on our website, where you can talk to a representative in real-time and get immediate assistance.
Email support: You can also email us with any questions or concerns you may have, and we will respond as soon as possible.
At www.Cheemz.co.uk, we strive to provide excellent customer service and ensure that our customers are satisfied with their purchases. So, if you need any assistance, don't hesitate to reach out to our customer service team.
Happy shopping!
Additional information
| | |
| --- | --- |
| Dimensions | 14.8 × 1.7 × 11.2 cm |
There are no question found.